Whether you grow tomatoes in your backyard, purchase local honey from a farmer's market, pick apples at a local orchard, or buy all of your food at a grocery store, you depend on bees. In fact, the US Department of Agriculture (USDA) reports that bees pollinate approximately 75 percent of the fruits, nuts, and vegetables grown in the United States.
Unfortunately, several factors are contributing to a concerning decline in bee populations. As prairies are plowed under for new construction, there are fewer wildflowers to provide bees with pollen and nectar. Diseases and parasites prey on these honey-producing insects. And pesticides used to keep pests like ticks and mosquitoes out of Kansas City yards also kill bees, butterflies, and other pollinators.
By incorporating one or more of these tips into your landscaping, you can create a bee-friendly yard and a pollinator's paradise.
Avoid Pesticides
You may already know that it's important to avoid pesticides if you want to create a bee-friendly yard. But did you know that even products labeled as organic can be fatal to bees? If your yard needs chemical assistance to manage fungus, weeds, mites, and other nuisances, choose products wisely. 
While most fungicides, herbicides, and miticides can be used without harming bees, you'll want to do your research. Liquid copper fungicide is a bee-safe way to manage mildew and black spot in vegetable and rose gardens. Homemade herbicides crafted from vinegar and other ingredients you may have on hand are generally safe for bees. And if you're battling mites, instead of spraying chemicals, add a loveliness of ladybugs instead. (Yes, that's what you call a group of the cute polka dot bugs.) 
The most common garden insecticides, on the other hand, use a nicotine-based chemical called neonicotinoids. When these chemicals are absorbed by plants, they are often present in its pollen and nectar. As bees collect pollen and feast on nectar, the chemicals present in a plant doused with neonicotinoids slowly poison them.  And beyond our precious pollinators, studies show that these chemicals may be harmful to humans, too.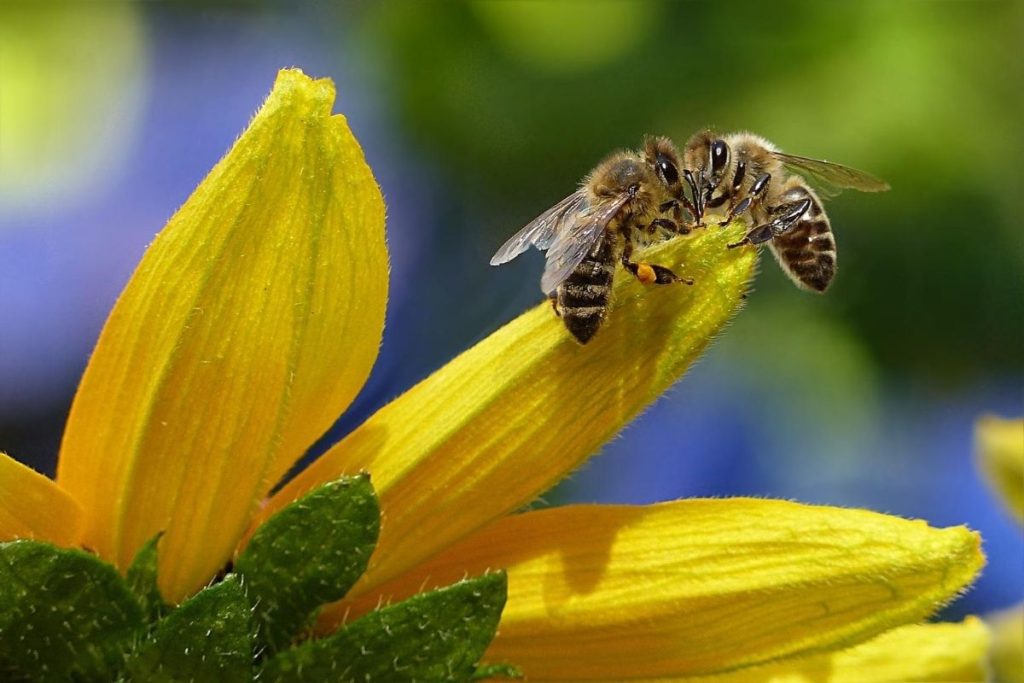 Plant a Bee Garden
As more people across the nation have embraced the importance of protecting our pollinators over the past several years, homeowners, parks, and schools have planted butterfly gardens. Whether you name your garden after an elegant showy pollinator or a fuzzy buzzing one, you'll likely include the same colorful blooms.
If you prefer perennials, plant coneflowers, bee balm, black-eyed susans, and daylilies in your bee garden. If an herb garden is more your style, plant oregano, rosemary, chives, and mint. Not only can you add fresh flavors to your favorite dishes, but you'll also create a bee-friendly yard. And sunny marigolds, ranging from lemon yellow to pumpkin orange will both attract bees and be one of the best companion plants you can add to your vegetable garden.
Create a Bee-Friendly Landscape
Using native varieties as often as possible, plant bushes and trees that are appealing to pollinators to create a bee-friendly yard. (And, as an added benefit, many bee favorites yield juicy berries and tasty fruit for your family.)
In Kansas City, trees like maple, apple, willow, cherry, and plum provide local bee colonies with early-season nectar. If you're looking for something smaller, plant blueberry, butterfly, or hydrangea bushes.
Make Your Johnson County Yard Bee-Friendly
Johnson County, Kansas, encourages residents to install sustainable landscaping solutions. When you add bee-friendly native plants and trees to your home or business, you may be eligible for a rebate of up to 50% of the material and installation cost. 
Stop by Rolling Meadows Landscape in Overland Park to pick out bee-friendly plants, shrubs, and trees that will transform your Johnson County yard into a pollinator's paradise and potentially earn you a refund.
Areas We Service Near Overland Park
Rolling Meadows Landscape services Overland Park, Kansas, and the neighboring cities of Gardner, Kansas City, Leawood, Lenexa, Merriam, Mission Mills, Olathe, Prairie Village, Shawnee, Stanley, and Stillwell.